One of the cheapest places to live in the world is still Belize. Consequently, to retire in Belize is really cheap and by many accounts it is also one of Central America's most beautiful countries too. It can be a retirees (bargain hunters) dream come true if you play your cards right. It has just about everything a retired person seeking a tropical paradise could imagine. To start with, the official language is English and that always makes living in a foreign country easier but beyond that, it offers wildlife as diverse as any country, a tropical climate and of course some really great beaches. If your thing is snorkelling or scuba diving then your little piece of heaven just got better because the ecosystems underwater are some of the best in the world and talk about options... there are 127 islands to explore in the Belize Barrier Reef.
If you really want to
live cheap in retirement
you might want to check out the Cayo area that is west of Belize City about an hour and at least at the last time we checked it out, you could rent a nice size home there for under $400 a month. The Cayo district has a population of about 40,000 and it covers about 2000 square miles on the western side of Belize. You shouldn't forget that Belize is more than a beautiful beach. Sixty percent of the Cayo District is either a wildlife sanctuary, a Forest Reserve or a National Park and it offers a wide diversity of activities for a traveller as well as much to see and experience in this land of natural beauty. Of course if you are dead set on the coast you are going to pay a little more but considering you would be an hour away it might be worth living inland so you can enjoy all of Belize, depending on how often you want to dip your toes or your snorkel gear in the blue waters of Belize.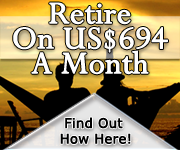 Because Belize is such a lush country and much of their food is grown locally, it can make your grocery bill quite inexpensive as long as you stay away from all those imported things you are so used to
buying. To embrace the local cuisine really is part of the adventure of it all so why not make the effort to try the new foods and save money too.
Here is a little bonus for all you retirees, folks over 45 can be eligible for the
Retire Belize
program or sometimes called
Retired Person's Incentive Program
. It can help you live almost tax free if you meet certain qualifications. This
program was initiated as a part of a plan to entice stable retirees to make this their home. We hope you are starting to get the picture about why Belize is one of the cheapest places to live in the world
especially if you are retired and want modern conveniences to be a part of your life style.
Now there has to be at least one negative to living here or everyone would arrive at once but in the big picture it may be minor detractions from abundant positive side of the equation. The deal is it rains a lot from May to October and it is a location that sometimes can be exposed to hurricanes. Many expats just use this as the time they head home since many are from the Northern hemisphere and May to October is summer there so the weather is often more agreeable anyway.


To retire in Belize is well within reach of many and it really can be one of the cheapest places in the world to live if you are careful and do a little planning and don't become ridged about where you live or
what you eat. Of course let's not forget the great plan Belize has for those of you over 45 to
live tax free
.