Where are the Top Cheapest Places to Retire? A recent article in the UK Telegraph gives an extensive list of their top picks. I read the Telegraph frequently because it gives a much broader perspective on the world and also gives one insight into living and lifestyles in Europe. It only makes sense, while publications based in the U.S. tend to be Ameri-Centric those coming out of Canada and the UK do provide a more worldly view of issues and ideas.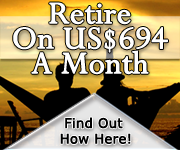 So, what's the "Tele" have to say about living cheap as a retiree? Let's have a look -
Note: As this article appeared on a British Site the amounts were in British Pounds so I've taken the liberty of converting them to U.S. dollars which makes sense as the world base currency is the US buck - at least for now! The other thing I noticed in the original article is that the property prices they quote seem to be far from 'cheap'! So, I've done some of my own research and put in some real estate that may be more appropriate for a retirees budget.
The World's 20 Most Affordable Places to Retire
as presented by to Christopher Middleton of The Telegraph.co.uk
1. Nova Scotia, Canada
If your dream retirement includes: four seasons in the countryside and lots of land by the sea then Canada's East Coast is the spot for you. The Canadian province of Nova Scotia is a stunning landscape with 4,000 miles of ocean coast. The nice part is that that coast line is available at a bargain. For example a three bedroom, 2 bath home on five acres will set you back around $150,000 US dollars.
Nova Scotia Real Estate Listing
For sale: 8 year old, well built home with than 11 acres of land; detached double-car garage or barn. Cleared portion of land great for horses; large kitchen; living room with wood stove; 3 bedrooms; 2 full bathrooms; unfinished basement with walkout to the drive.
Asking price : $154,000 CAD $151,967 USD £95,141 GBP* Tradewinds Realty - www.tradewindsrealty.com
Cheapest Places to Retire in Eurasia
2. Germany
The German capital of Berlin is clearly recognized as the centre of the economic world in the Euro Zone. With stability and confidence real estate prices in Germany have increased 7% this year while the cost of living remains 36% below that of London England.
Dan Johnson, managing director at The Move Channel says,
"Consumer debt in Germany is relatively low, and the inherently cautious (German) banks are less likely to get drawn into the debt crisis than their counterparts (in other parts of Europe)."
Sample Berlin Real Estate Listing
For sale: 1 Bedroom Apartment in Berlin, Germany. Steglitz is a very attractive green area and this particular apartment is very quietly situated in a residential area. Public transport opportunities are offered at above and underground station Rathaus Steglitz with direct connections to the heart of Berlin as well as Charlottenburg.
Asking price: $57,807 CAD $58,303 USD £36,220
The Move Channel - www.themovechannel.com
3. Poland
If you purchase your retirement place in the Lubicz Brewery you'll find yourself living in a stunning 19th century converted building. It has 21st century shops, flats, restaurants and offices all within walking distance of the 13th century market square in Old Town Kraków. If you make your move now you can be living there when the 2012 UEFA Football Championships hit town!
Sample Real Estate Listing

Kraków

Poland

For sale: One bedroom apartment in the Lubicz Brewery Development

Asking price: $126,147 CAD $127,174 USD £79,000

Property Venture - www.property-venture.com

4. Italy

It can be quite expensive to live in Italy if you are looking to live in a detached stone farmhouse with views over the countryside for your retirement. But there is a much more affordable and friendly way retiring in Italy - look to Umbria and buying part of a of a big house rather than the whole thing. You still get high ceilings, a beautiful piece of Italian history and as an added benefit you share the swimming pool with just a handful of fellow investors instead of an entire apartment building as you find in many retirement residences.
Sample Real Estate Listing Umbria Italy
For sale: Casa Strada - Newly restored corner of a large Umbrian barn.
Asking price: $297,633 CAD $295,218 USD € 210,000
Properties Umbria - www.propertiesumbria.com
5. Spain
Who hasn't dreamed of retiring to Spain? Well you need only no further than the number flights to Malaga to understand you're not alone and many people are making that dream a reality. You can choose luxury by the sea in spots like Marbella and Puerto Banus or if beautiful countryside is more your style you can drive about 20 minutes inland and you'll discover romantic picturesque orchard and olive grove properties in places like Monda, Coín and Alhaurin el Grande. Drive an additional 25 miles and then you're really getting into authentic and traditional Spanish living in the hillside villages of Ronda and Antequera.
Sample Real Estate Listing the Spanish Countryside
For sale: A three bedroom beachfront apartment in San Pedro de Alcantara which is six miles from Marbella
Asking Price: $553,388 CAD $557,793 USD $£346,800.
Alcantara Estates - www.alcantaraestates.com
6. Portugal
Do you worship the sun and the sea? Is your ideal retirement activity Golf? Then may I suggest you consider Western Algarve which is a perfect part of Portugal for active retirees. While real estate and other prices fluctuate up and down the temperatures stay warm most of the year. The airport is close by in Faro and and Lagos is one of the most interesting towns in the country. The ancient walls, lovely bay and five beautiful beaches are any retirees paradise.
Sample Real Estate in Portugal
For sale: Three bedroom, single storey home with pool and country views; just five minutes to the Palmares Golf Course and Meia Praia beach
Asking Price: $766,368 CAD $772,320 USD £480,000
Knight Frank - www.knightfrank.com
7. France
If you're anywhere within the region of Hérault Languedoc Roussillon you're in wine country. Yes, this is the epicentre of world famous French wine - wall to wall vineyards. And just like the romantic notion of retiring to Spain France is equally as appealing. Beware the capital gains tax on property sales by foreigners has increased from just 1.2% to a whopping 32.5%! That has put a damper on the RE market to say the least but it also means anyone considering spending their final years in retirement in France can find some real bargains.
Sample Real Estate in France
For sale: Two bedroom, two bathroom villa at Le Hameau Des Pins, near Narbonne
Asking Price: $418,309 CAD $ 421,531 USD £262,000
Chesterton Humberts - www.chestertonhumberts.com
8. Cyprus
Over 40,000 British have retired to Cyprus over the past decade. Despite the troubling economy on the mainland of Greece retirees are still flocking here. There is a large expat community at Paphos where UK expats in particular feel most at home. If you live half the year on Cyprus your pension gets taxed at just five per cent thats pretty attractive to any retirees.
Sample Real Estate on Cyprus
For sale: Deeded 2 Bedroom Traditional Bungalow rebuilt to High Standards. This property is situated in a quiet residential area of Sotira. A five minute walk takes you to the Village Centre.
Asking Price: $246,102 CAD $ 247,817 USD £153,702
Purple International - www.purpleinternational.eu
9. Tuscany
Given it's world wide recognition Tuscany has some premium real estate and expensive places to live but if you dig a bit you will find some lovely rural locations like Lunigiana which are cheaper than the rest of Tuscany. Here, for example, you can find a two bedroom stone cottage for under $500,000. As an added bonus many rural areas of Tuscay have all of the modern conveniences including high speed broadband internet service. But lets see if there is any real estate that is truly in a retirees budget -
The Best Guide To Buying Property in Italy
Sample Real Estate in Lunigiana Tuscany
For sale: Stone village house with terrace offers superb views of the surrounding countryside; Short walk into town which offers shopping, restaurants, cafès and train station. The property is in good condition and has many features including fireplaces and beamed ceiling.
Asking Price: $224,784 CDN $226,528 USD £140,500 €160000
www.italymag.co.uk/property-for-sale-in-italy/
10. Morocco
"Buying and restoring a traditional riad in the heart of old Marrakesh requires ingenuity and haggling but it is well worth the effort." says Jonathan Gibbons. While that not many retirees come to Marrakesh to settle it can actually be very relaxing. Picture yourself sipping mint tea on your roof terrace after a fun morning at the bazaar in the city's pulsing Jemaa el-Fnaa main square. It's not for everyone but for those who enjoy the exotic this could be the ideal retirement spot.
Sample Real Estate in Marrakesh Morocco
For sale: Riad just steps from the gardens of Majorelle; discover this riad with a beautiful view on The atlas.
Asking Price: $95,793 CAD $96,543 USD £59,886 €68,200
11. Albania
This is an enchanting country with character and charm. Albania has borders with Greece, Macedonia, Kosova and Montenegro and coastal areas along the Ionian and Adriatic Seas. A wonderful sunny climate that boasts over 180 days of sunshine per year Albania holds a lovely mix of culture and nature, mountain peaks and deserted beaches, untamed beauty and bustling city life. Top that off with a very affordable and modern housing market and you've got a great place to retire cheap!

Sample Real Estate in Albania
For sale: Apartments £39,000 to £61,000 and beach villas (not beachfront) £192,000 to £227,000) Lalzit Bay Resort and Spa www.lalzitbay.com


12. Gibraltar
A mild Mediterranean climate with an average daily temperature of 18C (65F); plenty of golf courses, British trained and certified lawyers, doctors, and accountants what's not to like about a retirement in Gibraltar?



Sample Real Estate in Gibraltar
For sale: New 19 storey King's Wharf Tower;Two bedroom apartment
Asking Price: £395,000 (fifth floor) £423,000 (17th floor)
Chestertons Gibraltar www.chesterton.gi
13. Estonia
Demand for property in Tallinn Estonia has been driven by its recent entry into the European Union, a pro-business environment, liberal economic policies and low taxes which are attracting retirees. In Estonia foreigners are free to buy and sell real estate with no restrictions, with closings often taking take less than a month. Prices are very reasonable and its one rare European capital where a retiree can still afford a place in the middle of town. However, just three train stops away is the parkland area of Kadriorg, where apartment prices drop to half pf what they are in the middle of town. "Buying a property requires a simple visit to a notary, rather than a merry-go-round of surveys and conveyancing issues." says Andrew Whyte, of local property consultants Goodson and Red
Sample Real Estate in Tallinn Estonia
For sale: A two-bedroom, fourth floor apartment, with parking space, in Liivajoa, Kadriorg,
Asking Price: £113,700
Goodson and Red - www.goodsonandred.com
14. Egypt
The Arab Spring has caused barely a ripple on the Red Sea at the Sharm El Sheikh Egyptian Resort. Regardless of who's ruling the country or who's demonstrating in Cairo warm weather is guaranteed and many parts of the country are as peaceful as they have been for decades. The average price of gas is just 65 cents a gallon - the third cheapest gas in the world and the average temperature of the sea is a bath-like 24C (74F).
Sample Real Estate in Eygpt
For sale: One bedroom apartment with balcony and terrace at The View; communal swimming pool Asking Price: £34,000
Colordarcy - www.colordarcy.com
15. Turkey
In the southern Turkish community of Kalkan, You'll find yourself surrounded by Brits, not the '
lager and loudmouth
' variety but the polite and gentle middle class family oriented kind., Kalkan is built around a beautiful bay and offers lovely rooftop restaurants. No high rise hotels here so your view is unobstructed and the feeling is homey. Recently the Goçek mountain tunnel opened which has cut the drive time from Dalaman airport to just 90 minutes.
Sample Real Estate in Kalkan Turkey
For sale: A five-bedroom villa with infinity pool, in a new development overlooking the bay, £390,000. Spot Blue Properties (020 8339 6036; www.spotblue.co.uk/turkey).
The Cheapest Places to Retire in the UK
16. England
Buckinghamshire is not your traditional English village. There is no 16th century church and no duck pond) but, there is Denham Garden Village which has many features which may be of great interest and use to someone who is retired. These features include: a café, a bar, a convenience shop, a swimming pool and a Doctor -
all on site
. The apartments and small homes here have doorways that are made wide for wheelchair access. That means you don't necessarily need to move if age limits your mobility.
Sample Real Estate in Buckinghamshire England
For sale: Two bedroom apartments and two bedroom bungalows
Asking Price: from £366,000 and £405,000 respectively.
The Frost Partnership - www.denhamgardenvillage.co.uk
17. Scotland
According to Zoopla, Aberdeenshire is the only part of Scotland where house prices actually rose last year. They increased .45%. Aberdeenshire is blessed with miles of coastline. Tucked along you'll discover craggy, little fishing villages like Collieston and Cruden Bay.
Sample Real Estate in Aberdeenshire Scotland
For sale: A seven-bedroom, six-bathroom Georgian house in Banff High Street, with views over the harbour.
Asking Price: £495,000
Knight Frank - www.knightfrank.com
18. Wales
Properties in Monmouthshire can cost twice as much as they do in less prosperous parts of the Wales. The reason is obvious when you visit. This are is full of picturesque and characterful towns like Monmouth, Chepstow and Abergavenny to name a few. They all enjoy thriving commerce with independent shops, and wonderful festivals offering everything from food to folk music.
Sample Real Estate in Wales
For sale: A three-bedroom, Grade II listed cottage, early 1900s, at Rockfield, near Monmouth,
Asking Price: £315,000
Parry's Fine and Country - www.fineandcountry.com
19. Shetland Islands (Scotland)
Apart from three obvious attractions - fresh air, outdoor life and no of traffic jams, the fourth big one is affordable housing. The highest price for a property on the Shetland Islands is just £350,000. That's for for a lovely bungalow in the capital of Lerwick. But only half that amount will find you in a stone house with sweeping views of the sea!
Sample Real Estate in the Shetland Islands
For sale: The Old School House in Levenwick; four bedrooms; unobstructed sea views
Asking Price: £139,000
Michael Inkster & Co - www.shetlandislesproperty.co.uk).
The Cheapest Places to Retire in the Caribbean
And to round out the collection who can resist the idea of retiring to the Caribbean?
20. Barbados
Sure, your retirement budget may not be able to afford a big house on the hill like Sir Cliff Richard, but you could move into one of the many beachside developments on this expat friendly island. Get ready for a taste of the UK here where they drive on the left side of the road and have a Trafalgar Square!
Sample Real Estate in Barbados
For sale: Three bedroom, two bath town homes at Battaleys Mews development on the west coast at St Peter.
Asking Price: £365,600
Knight Frank - www.knightfrank.com
Editors Note: This is a huge topic that is worthy of plenty more research! Please check back as we will be updating this article with new information over the coming weeks!
Source
The Telegraph
:
Tax-Free Retirement Made Easy
You don't want to organize your new life overseas around tax code...but sometimes the two agendas can converge.
We've identified three countries that roll out the welcome mat, not only offering significant benefits for foreign residents, including seriously appealing tax advantages, but also making it easy for you to become a foreign resident in the first place.
That is, it can be possible to relocate to the Shangri-la of your fondest daydreams...while, at the same time, reducing your tax burden, maybe to zero.
It depends largely on how and from where your income is derived...
And the key is arranging legal foreign residency.
Here's the good news: While not every country welcomes foreign retirees or expats, we've identified three countries that roll out the welcome mat, not only offering significant benefits for foreign residents, including seriously appealing tax advantages, but also making it easy for you to become a foreign resident in the first place.