Retirement is a time of simplicity, an escape from the rat race of the nine to five world. Finding the
best places to retire in the United States
is a matter of choosing a location best suited to personal interests and financial considerations. Some of the best states to retire in can be found in the northwest. With a mild climate, plenty of recreational opportunities and several big cities, this region is perfectly suited for any retiree. Our pick for the top spot when it comes to the
best place for retirement in the Northwest is Oregon
.
Best City to Retire in Oregon
With a small-town feel and plenty of entertainment, Ashland is one of the best cities to retire in Oregon. Home to the world famous Oregon Shakespeare Festival, this city offers plenty of arts and cultural activities, as well as some of the best fine dining restaurants in the state. Ashland is also home to Southern Oregon University and the Osher Learning Institute, a place where retirees can take as many classes as they wish for $100 a semester. In addition, Ashland has many active senior groups who take an interest in everything from politics to art. Although small, with a population of only 20,000, many compare the culture of Ashland to that of San Francisco. Homes here are large and the median home price is just under $300,000. Median family income is upwards of $63,000 a year. Located in the beautiful Rogue Valley, Ashland enjoys very warm summers and beautiful fall colors.
Cheapest Place to Retire in Oregon
Salem is the state capital and Oregon's second biggest city. Sixty miles from Portland, Salem is clean, safe and inexpensive. With a median home price of $179,000, an average property tax bill of $2400 and a median family income of $58,496, Salem is one of the cheapest places to retire in Oregon. Situated in a lush agricultural area, Salem is home to several farmer's markets and places a great emphasis on fresh and healthy ingredients. This is reflected in the menus of the city's many fabulous restaurants. Outdoor recreation includes many opportunities for golfing, biking and hiking. Salem is also home to the Oregon State Fair, and the beautiful Oregon coast is only a 90 minute drive away. Inexpensive and great for seniors, Salem is a wonderful place to experience a relaxing retirement.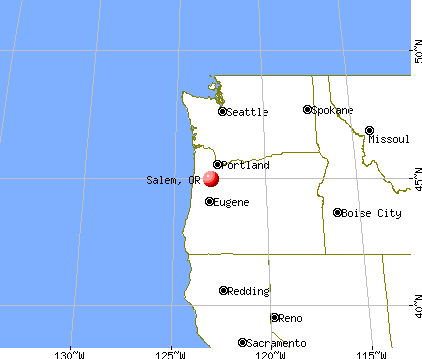 The northwest is filled with small towns, big cities and everything in between. Deciding on the best place to retire is a highly personal choice. Those who want peace and quiet in their golden years would do well to stay away from the big cities, while those looking for entertainment and stimulation would be bored to tears in a small town. Finding the best place to live after retirement can be a time consuming process, but the hard work will pay off in the end.