The southwestern United States is a place of growing popularity. It is a land of turquoise-colored mystery; a world where the west is still somewhat wild.
New Mexico
is among the best states to live in the region. With its distinctive southwestern flair, relatively low cost of living and many outdoor activities, New Mexico earns our top spot as the
best state to live in the Southwest
, and may well be one of the
best places to live in the United States
.
Best City to Live in New Mexico
Although rather small and relatively unknown,
Rio Rancho, New Mexico
is one of the best cities to live in New Mexico. A suburb of Albuquerque, this city of 82,000 is a safe and secure place to raise a family. Although not immune to the foreclosures the rest of the country has seen over the past five years, Rio Rancho is a great place to find an amazing deal in the housing market. With a median family income of $66,000, jobs in Rio Rancho have grown nearly 70% in the past ten years. The median home price is $169,000 and the average property tax bill stands at $1400 per year. School test scores in reading are 22% above the New Mexico average, while scores in math are an astounding 41% higher. The Intel Corporation is the area's biggest employer, although the retail and service industry round out the economy nicely. New construction, including a hospital and large office complex, promise to bring even more jobs to the area in the coming years. Rio Rancho is ever-changing and always growing, making it a wonderful place for families and singles alike.
Cheapest Place to Live in New Mexico
Here,
Rio Rancho makes a repeat appearance
on our list. Not content to be only the best city in New Mexico, Rio Rancho is also the cheapest. Housing here is 11% below the national average, while utilities are 10% cheaper. Overall, Rio Rancho falls a full 4% below the national cost of living average across the board. Healthcare is the only measured category in which Rio Rancho exceeds national expenditures, and even here it is only 1% over. As a comparison, New York City is 126% more expensive than Rio Rancho.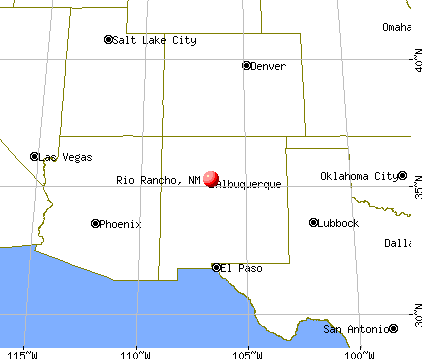 Best Place to Retire in New Mexico
Las Cruces, New Mexico
has been voted "Best Place to Retire" in the state many times over. AARP listed it as a Top 5 in 2006, while Money Magazine has ranked it twice in two separate years. Las Cruces offers wonderful weather and plenty of senior living activities. With four golf courses and tons of nearby hiking and fishing, those 55 and older will not lack for recreation. New Mexico taxpayers are also afforded tax breaks from income sources that fall below $28,500. An average three bedroom house costs a mere $168,000, making Las Cruces easily affordable for those on a fixed income. Las Cruces is a wonderful place for seniors to relax, soak up the sun and enjoy all of the senior activities the city has to offer.
The southwest is an amazing place to live, and no state contained within it is more amazing than New Mexico. The affordability, school systems and economy continue to improve. New Mexico is the southwest's best place to live for people at any stage of their lives.